Sparkling wines start from just under-ripe grapes - that are still high in acid but have developed varietal characteristics, this is why many of the best sparkling wines are made in cool climate regions. There's more to sparkling wine than just popping a cork and toasting, in this article, I delve into the world of sparkling wine, exploring its production methods, key countries, appellations, styles, and more.
What are the main sparkling wine production methods?
But first, lets summarise the main sparkling wine production methods and their differences:
| Production Method | Bottle Fermented? | Times Fermented |
| --- | --- | --- |
| Méthode Ancestrale | Yes | 1 |
| Méthode Champenoise | Yes | 2 |
| Méthode Traditionnelle | Yes | 2 |
| Transfer Method | Yes | Rebottled |
| Tank / Charmat Method | No | N/A |
Here's a short explanation of each method:
Méthode Ancestrale and Pét-Nat Pétillant-Naturel
Starts with partially fermented (base) wine, which is then bottled and fermentation completes - hence a single ferment - this is more likely to be for Pét-Nat wines. With this approach, you're likely to have less fizz and won't know if the ferment completed til you open it. The resulting wine can be Dry to Off-Dry / Medium-Sweet.
There is also a method where the base wine is bottled, liquer de tirage is added, then the bottle is sealed and the resulting wine will have more fizz then the first approach. Some wine makers may also disgorge the yeast plug resulting in a clearer wine that is less likely to froth everywhere. This is where some of the Cremant sparkling wines can get really interesting.
Traditional Method / Méthode Champenoise
Starts from a still base wine, which is blended and bottler for a second fermentation before laying the down the bottles to do the magic stuff (sparkling wine). When ready, they are disgorged, topped up with dosage and inserting a cork - then ready to be shipped out to sell.
Transfer method
This is much like traditional - except follwing the second ferment, the bottles are emptied under pressure into a sealed tank. The now sparkling wine is then filtered, bottled, dosage is added and then it is and ready to sell (no ageing). This is a cheaper production method - less labour intensive.
Tank method / Charmat
Has second fermentation in a stainless tank and then sparkling wine is filtered and bottled ready to ship out (with no ageing) - this is also used for wines like sparkling Asti and Prosecco as well as high volume wines from the New World
Carbonation
This is for high volume wines and is cheap and quick - a still wine (usually aromatic) is carbonated in the bottle, packaged and then is ready to sell. Think Alcopops - the major discount supermarkets probably sell this stuff.
Key Sparkling Wine Countries and Production Methods
Table below sets out key Wine Producing Countries, Appelations and sparkling wine production menthod along with key grapes
Country (Region)
Key Appellation
Production Method
Key Grapes
England
English Quality Sparkling Wine
Traditional Method
Chardonnay, Pinot Noir, Pinot Meunier
France (Champagne)
Champagne
Méthode Champenoise
Chardonnay, Pinot Noir, Pinot Meunier
France (Alsace, Loire, Limoux, Bourgogne, etc )
Crémant
Traditional Method
Méthode Ancestrale
Varies by region (e.g. Chardonnay, Pinot Noir, Chenin Blanc, Riesling, etc.)
Germany
Deutscher Sekt
Traditional Method
Riesling, Pinot Noir, Pinot Blanc, Pinot Gris, Chardonnay
Italy
Franciacorta
Metodo classico
Chardonnay, Pinot Nero, Pinot Bianco
Italy
Asti
Charmat Method
Moscato
Italy
Prosecco
Charmat Method
Glera
Italy
Trentodoc
Metodo classico
Chardonnay, Pinot Noir, Pinot Blanc
New Zealand
Marlborough
Méthode Traditionnelle
Chardonnay, Pinot Noir
South Africa
Cap Classique
Méthode Cap Classique
Chardonnay, Pinot Noir
Spain
Cava
Traditional Method
Macabeo, Parellada, Xarel-lo
USA
Sparkling
Méthode Champenoise
Chardonnay, Pinot Noir
Australia
Sparkling
Pet Nat
Traditional Method
Ancestrale Method
Chardonnay, Pinot Noir
varies for Pet Nat
Styles of Sparkling Wine
Non Vintage
Made from a blend of several vintages - good for consistency in style and quality
Vintage
Made from wine only from that year - has to be an exceptional quality - some will have extra bottle ageing as well as more expression of tastes from that year.
Blanc de Blanc
White from white grapes - means the wine was made using only white grapes.
Blanc de Noir
White from black grapes
Other Sparkling Wines
Cremant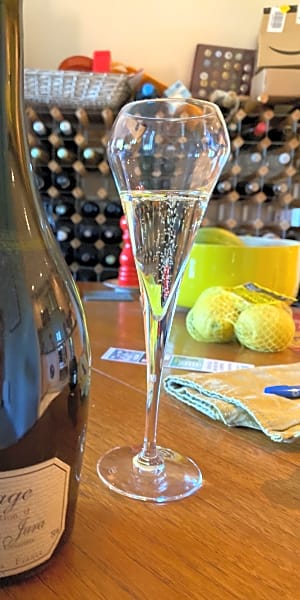 Is anything sparkling in France but not from Champagne region. In the past, Cremant referred to sparkling wine and the atmospheres of pressure in the bottle. Here are some good Cremants to know:
de Alsace - can be made from a variety of grapes - just not aromatics like Gewurz.
de Bourgogne -
de Jura -
de Loire - AOP for any sparkling in Loire.
de Limoux - will be ancestrale methode - Historical importance as one of the first places to make sparkling wine
Clairette de Die / Cremant de Die - ancestrale method - likely to be off-dry
You'll also find quality sparkling from the Loire that will be labelled
Vouvray 100% Chenin Blanc or
Saumur (a combination of grapes including Chenin, Chardonnay, Pinot Noir)
So to summarise … sparkling wine has a long history and made by many countries. It's popularised by Champagne, Prosecco - but there are several key production methods and the resulting sparkling wines are can vary in style from vintage to vintage or have a reputation of great quality and consistency.
I learned so much and revised quickly with Brainscape and their WSET Level 3 Flashcards.

Get started for FREE today, but you can unlock all the flashcards and SAVE 20% with this special discount code DAMIENWINE.